What 
did 
COVID
-19 
show
 us?
COVID-19 had a deep and far-reaching impact on the fresh food industry. Social distancing and outbreaks at meat and poultry processing plants slowed production and caused mass shortages. As the pandemic drove restaurant closures, producers scrambled to redirect product originally meant for food service into retail distribution. 
In the fresh food industry, retail packaging attributes and quantities are highly dependent on intended distribution channel. As the pandemic stretched on, producers had to shift a significant portion of their packaging operations into retail channels. Repurposing packaging lines designed for bulk-packaged products (food service) to meet retail/grocery distribution channel requirements is no small task.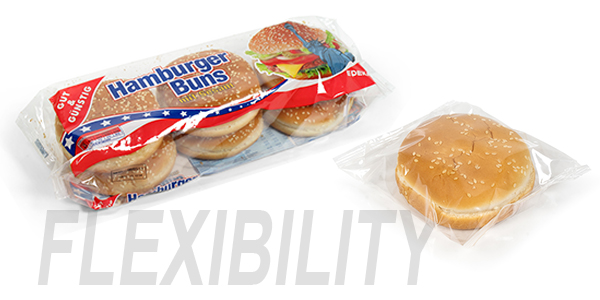 Retail point-of-sale oriented packaging is significantly more complex and sophisticated. In the early stages, many producers simply redirected product packaged for food service directly to retail distribution. For example, in the meat industry, this forced retail outlets to repackage meats "on the-fly" into consumer ready packaging; a task most were ill-prepared for. 
Of course, the poor product presentation that resulted from such packaging was overlooked by consumers during the height of product shortages. But many producers quickly recognized the inherent risk that comes with the one-trick ponies on their packaging floor. COVID-19 also accelerated changing consumer habits that already shifted toward family value packs and individually wrapped fresh foods. 
Such rapid, and unexpected shifts in demand simply accentuate the critical nature of packaging line flexibility – highlighting the importance of being able to pivot into new packaging sizes or formats with existing assets. Optimizing a packaging operation to accommodate more than one product per line, revise a package design, or handle a wider format variety, conveys a distinct advantage when demand or distribution changes. Until recently, packaging line flexibility has been a desirable and laudable goal, but not necessarily a key objective. COVID-19 has helped reinforce and reprioritize every producer's need for more flexible packaging solutions. 
The many faces of
flexibility
Flexibility takes different forms and has more than one face, but the common denominator is advanced planning. This is best done during the initial design process: evaluating with flexibility as a key criterion can help to identify equipment with a wider range of operating tolerances, or that better accommodate ancillary add-ons or re-configuration. Today, it's not uncommon for Producers planning new product introductions that incorporate multiple product and package size variations to try and determine if those variations can be produced on the same line. However, that same perspective is valuable for every packaging investment you make – because change is truly the only constant, and sometimes it comes out of the blue with little forewarning. 
One of the toughest challenges to overcome in planning for flexibility simply boils down to the physical plant footprint. Tightly constrained environments can severely limit future options, a factor that is difficult to overcome. 
Changeover
design
Does the OEM's machine design easily incorporate multiple tooling for different packaging sizes and designs? A wider variety of quick-change tooling means more products can be packaged on the same line. So, for example, a family sized package can be packaged in the morning and a single serving pack can be done in the afternoon. 
That also calls into question the complexity and/or time involved in such changeovers – and therefore how fast can you get the next product up and running. In general, a machine's design can either enhance flexibility or detract from it based on ease (and accessibility) of its tool and component replacements. That concept also applies to the range of packaging styles a machine can accommodate, such as modified atmosphere, skin packs, or even newer sustainable materials such as paper-based packaging. Similar flexibility criteria can be extended to ancillary automation or machine/conveyor belt movement.  
Pre- and post-packaging automation
Automation is always a substantial investment, so planning around flexibility in product loading, unloading, secondary packaging, and palletizing machinery can pay off handsomely. For example, secondary packaging Case Formers gate the product style and quantity that will fit in a box (or a multi-box case) – so machine tolerance levels are key to changing product counts or packing styles. It's not uncommon for Producers to align box styles by sales channel – for instance a display box for the supermarket versus a big box for club stores. Planning for a wider tolerance range in the case-former equipment may obviate the need to run multiple machines. 
A recent example we encountered was a co-packer that needed to package 12 five–inch meat sticks per box today, but with expectations that both lengths and counts may well change within two years. The automation design embraced that flexibility upfront by considering available Case Former tolerances and adding automation that counted products being loaded. So, if a new configuration became the norm – say ten, six–inch meat sticks per box, a simple programming change was all that would be required. Both Case Formers and Case Closers are available with automatic changeover options for various pack counts, which can be selected via the operator's HMI screen. 
In another similar situation, a customer needed to pack individual snack trays into both 24–count and 8–count retail cases – that's a large difference and more often than not would require two machines. We planned out a solution using a single machine with a simple changeover procedure. Adding an extended magazine to the Case Former made it possible to easily increase the number of boxes produced without increasing the frequency of refills. 
Another area to pay attention to is product–loading automation. If the ability to load a lot of different sized products is important, automation options may point to hoppers or linear vibratory tables combined with vision guided robots that can pick and place multiple products at once. Worried about your ability to increase throughput speeds in the future? Allowing space for another robot on the line creates options. Where there is one robot cell, another can usually be added to double the speed. The key is to make sure the loading area can accommodate a second robot cell in the future. If there is not enough room in the loading area the flexibility for additional loading automation on the line is lost.  
The use of Grouping Chains can add speed and flexibility to your line. They are designed to rapidly orient and feed a large number of products into loading cells or for robotic pickup instead of picking up the product one at a time to group them. Grouping chains are easily expanded to accommodate multi-product pickups – with significant improvements in cycle time and throughput. When combined with Robotic loading systems that incorporate pick and place gripping systems, the ability to vary both the amount and format of product can make a big difference when requirements change.   
Other areas to key in on
Conveyo

rs

 

are the causeways that direct the product to the proper machines in the plant. Those

 

that can

 

h

andle more than one product and

/or

 size by expanding or contracting the belt size

 add flexibility

.

 

 

Machine portability can have a big impact on your ability to quickly reconfigure or repurpose existing assets. If machinery is easily moved throughout the floor, layout creativity can make major product changeovers significantly easier. 

 

Advanced, smart 

Industrial control systems 

are 

more easily reconfigured if 

a 

product line goes away

 or needs to change

. 

They

 

are

 

also 

more easily

 redeployed

 in global 

terms 

with less modification 

to

 comply with international electrical and safety standards. 

 
Summary
COVID-19 highlighted what can happen when our food production systems are faced with the need to pivot quickly. Yes, the pandemic radically changed many purchasing behaviors in the short term. But it also helped to highlight the importance of production models that better accommodate change. 
While global pandemics are rare, consumer trends are evolving at an increasing frenetic pace. The best advice? Like the Boy Scout motto, it's always better to "Be Prepared".