Meal kits are quickly gaining popularity due to Covid-19 with more consumers staying home to cook; by 2027, the industry is expected to reach 20 billion dollars. There are many opportunities for you to earn contracts from meal kit companies because they change their offerings frequently and require many different types of packaging. The amount and variety of packaging is what affords you the opportunities, but also may be a barrier to earning a contract. Your packaging lines must meet volume requirements and be flexible to handle multiple products and serving sizes. Your packaging needs to be leak proof, flexible, compact, and provide sufficient shelf life. 
Specifically, proteins need special packaging attention because they can spoil and have liquids that can leak.  
NO LEAKS 
Picture this, a consumer opens their meal kit box for the week and finds the steak packaging busted open and leaking all over the fresh produce, contaminating the whole box. Not to mention, that piece of meat is completely spoiled now. According to Hugh Crouch, Flow Wrap Product Manager at Harpak-ULMA, leading meal kit producers say they have a 90% chance of losing that customer. Nobody wants to open a meal kit box and find steak juice everywhere. 
When producing leak-proof packages is a non-negotiable requirement for keeping your clients happy, many protein producers turn to thermoforming. Thermoforming is a smart choice for packaging of proteins, offering several benefits: 
I

t's l

eak 

proof

 

It 

e

xtend

s 

shelf 

life

 

It

 uses flexible materials and films to 

fit in the meal 

kit

 

It 

u

ses less 

film

 
Additionally, some meal kit companies overwrap the proteins they receive from their supplier to add an extra layer of protection in the meal kit. Flow wrapping can add that security. 
Flexibility 
Meal kit menus change weekly with different sized portions, cuts, and types of proteins. One week's order may call for 6-ounce chicken portions, and the next week's order may require 8-ounce chicken filets. Every contract is different but one thing is certain; you need flexibility on your packaging line to fill a variety of orders. 
You should look for a thermoforming machine that has these features: 
Handles multiple types of protein

 – with tooling to change package 

size

MAP capable

 
User-friendly controls

 

Fast and easy changeover capabilities 

 

Sanitary design to 

meet 

sanitation standards

 for the 

food

 being packaged

 

Robust to handle high 

speeds

 

Runs reliably with limited unplanned 

downtime

 
Support from your OEM, providing prompt service and parts to keep your machine running

 
Your secondary packaging should be easy for meal kit employees to unpack and break down. Moreover, it needs to help your protein survive the cold chain and protect it from normal wear during the journey from your plant to the meal kit assembly plant.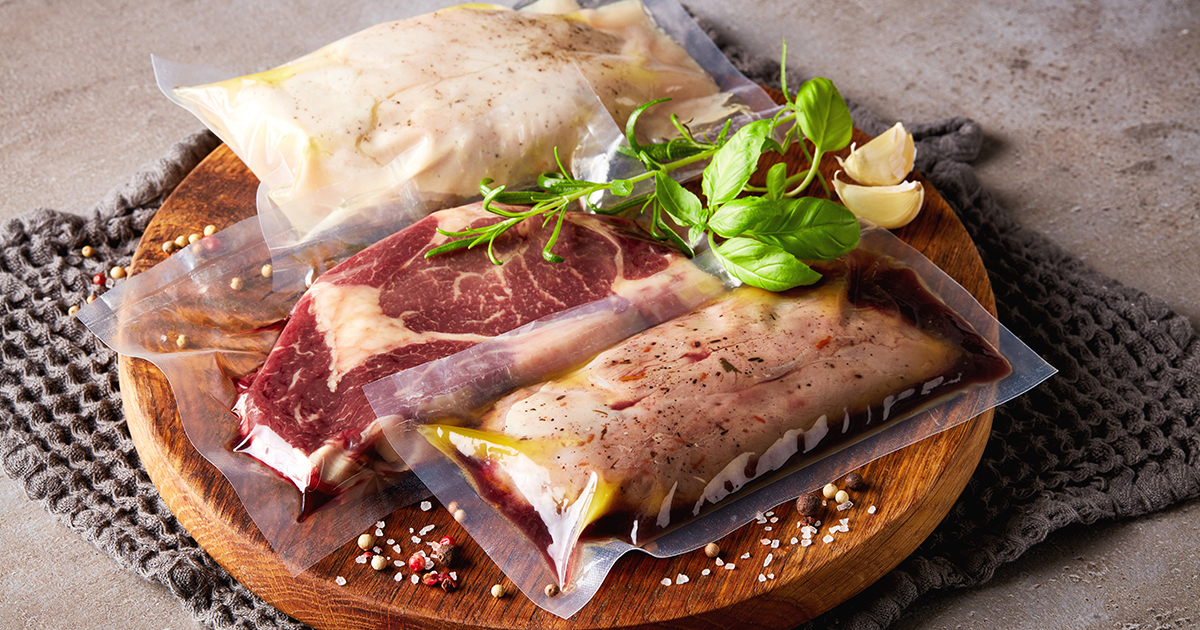 E-commerce and Meal Kits Are Here to Stay 
There are hundreds of meal companies benefiting from consumers cooking at home. Consumers enjoy the convenience of having a variety of delicious meals delivered to their door. According to a report by Grand View Research, Inc, the meal kit delivery service market could see a compound annual growth rate of nearly 13% by 2027. The report cites two of the largest reasons for growth being Covid-19 and millennial interest in food trends. 
Meal kit companies rely on meat processors and manufacturers to supply them their proteins for the meal kits. You need flexible packaging lines, and thermoforming machines are a good option to handle changes in package sizes, styles, and to prevent leakage. 
If you'd like our Harpak-ULMA team to help with packaging designs, or need any guidance, feel free to reach out to our team of packaging equipment experts. We're here to help in any way we can.